Why e-commerce should be
the height of fashion
Why e-commerce should be the height of fashion
Leith copywriter, Mairi Wilson, on whether the future of luxury brands rely on joining the online revolution.
There are few industries quite so reluctant to join the online revolution as luxury fashion.
But then again, there are few experiences that seem quite as untranslatable to the online world as Haute Couture.
The luxury fashion market has sewn its foundations into sensory experience. Shopping at a high fashion boutique is a process; from the bespoke world created in store, right down to the artistry and craftsmanship of the garments themselves. The luxury price tag owes a few of its zeros to both of these elements - which are difficult, but not impossible, to recreate online.
But as London Fashion Week closes its wardrobe doors for another season, we've been asking if luxury fashion should continue to exclude itself from the highly lucrative world of e-commerce and, just as importantly, can it?
What do we want? Millennials
When do we want them? Next day delivery please.
Writing for The Economist, Imran Amed states:

"In 2018 savvy brands will nevertheless find an opportunity for growth thanks to the rise of digital technology and social media. … [Millennials], Bain [& Company] reckons, will account for 45% of luxury-market consumption by 2025. The industry's future depends on them."
Imran Amed
It's unlikely that there's a major retail brand out there that doesn't have a department dedicated to tempting this elusive market into its ranks. But for luxury fashion, Amed reasons it's a necessity for survival.
And for once, there's a piece of the pie up for grabs. Young people value authenticity. We appreciate stories, and we're looking for a chance to be part of them. We're looking to join a movement.
Ironically, for a generation that thinks mortgages are a wee bit expensive, less than one in five of millennials polled in America think "luxury brands are a waste of money". Essentially, the authenticity at the heart of luxury fashion resonates with us, and outweighs the price-tag.
And there are other parallels between millennial and high fashion ethos.
Fashion has always been a dictator of culture. When Dior 'created' the feminine silhouette of cinched waists, it was to counteract the seriousness of a post-world-war world; to add a little much-missed frivolity.
Almost 80 years later, Dior still upholds its position as cultural dictator. Its first female Creative Director's (Maria Grazia Chiuri) iconic feminist t-shirts are celebrated across social media, slotting in nicely with the trend of Instagram activism.
Dior has aligned itself with an online and vocal feminist community - a community with both gravitas and a healthy bank balance. Smart move. And they're not alone in spotting the potential in aligning with a worthy cause. Just this month, Burberry announced its allegiance to three LGBTQ charities with a PRIDE edition of its iconic fabric.
In targeting these communities in the spheres where they are most vocal, luxury fashion is cementing its position in their minds and Fendi purses.
The e-commerce Conundrum
So, it feels like a natural next-step to move from social engagement to e-commerce. But where Burberry has recently signed a distribution deal with UK-based web retailer Farfetch, Dior remains uncompromisingly offline.
And they're not alone. What this creates is a disappointing customer journey. Few of those who embody and adhere to the ethos these brands perpetuate on social media can actually follow through and buy.
But where they can complete their journey, there is creative success. Gucci, who made headlines with their appointment of Alessandri Michele, a relatively unknown designer, have seen profits rise in tandem with their increased online profile. Their customer journey is a cohesive, gorgeous delight. The Instagram content and e-commerce world fit together like a well-tailored Gucci suit. And with a complete break from high fashion rules - an online exclusive collection - it's easy to see why 50% of Gucci's sales are from millennials (Forbes).
What Gucci, and its sister brand YSL, excel at is creating a cohesive customer journey. A stunning social media world that stitches seamlessly with their e-commerce site. They've managed to recreate, in part, the experience of shopping in a Gucci boutique.
Writing for Drapers Online, Harriet Brown suggests there's even more to be gained from high fashion's progress to e-commerce. She prompts:
"The timing for the shift to online also reflects a tipping point in tech, as brands are now able to create a bespoke luxury experience online, both in terms of customer service and brand identity."
Harriet Brown
This is the second part of the boutique experience: personalised service; a key part of high fashion. This is harder to replicate in the online experience, and relies, in part, on advancements with targeting and tech. But call me old-fashioned (pardon the pun) and a little biased, but a good copywriter can work wonders for your brand. YSL have 'Client Services' instead of the familiar 'Contact Us'. It's a simple, but subconscious nod to the expectations of their customers.
To counterpoint, this is what greets you at Marc Jacobs: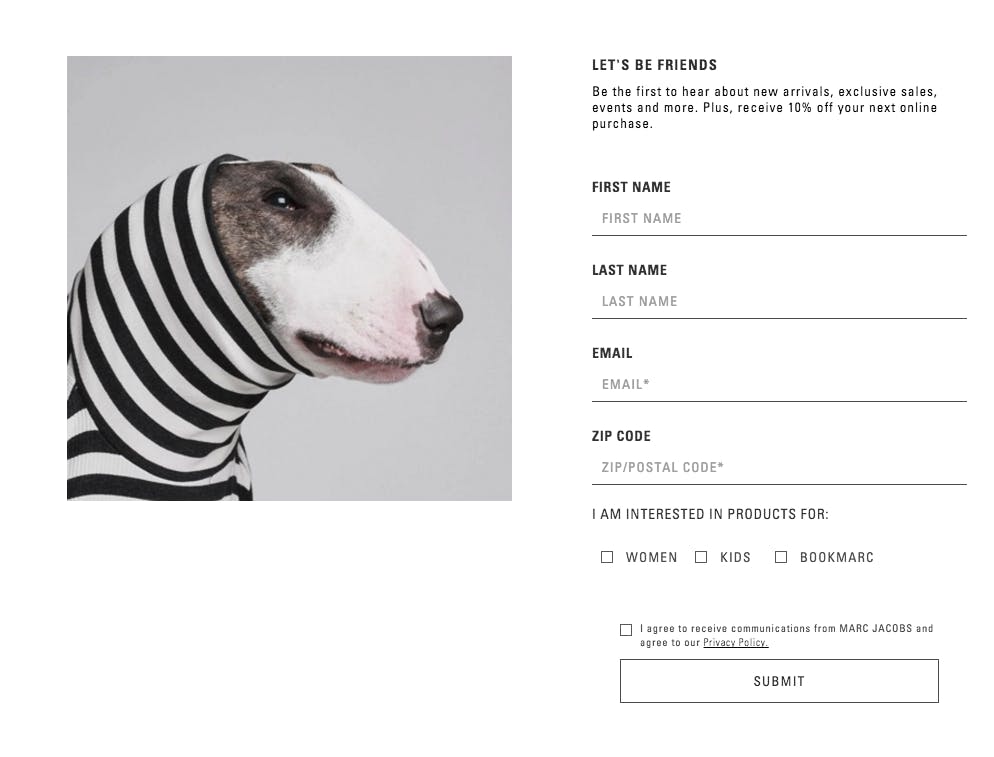 M.J. have spotted that their target market for their website are in search of community. And their copy reflects this.
Recreating a high-end and valuable online shopping experience definitely looks to be the main challenge of Haute Couture e-commerce. But an appreciation of both the millennial market and the expectations of online marketing, shown by these brands, prove it's possible, and definitely profitable.
What about the future?
With brands like Gucci and Marc Jacobs leading the way with e-commerce - and succeeding - it looks like others will soon follow suit. And it's those who adopt social and e-commerce as a part of their brand world, instead of depart from it, who'll gain the most.
The final hurdle for Haute Couture is to find a way to replicate the tangible, sensory feeling of their garments themselves. Obsess, an app designed to allow brands to create an immersive VR shopping experience from your mobile, is still in its infancy. But once its full potential is realised, we could see experiences such as the Gucci site made fully immersive. Will others then join in the fun?
London Fashion Week is no longer only accessible via a ticket or a copy of Harper's Bazaar. It's watched and enjoyed through the mobile phone screens of those recording it from the front row, and the budding fashion experts who play back all the action on Instagram Stories at home.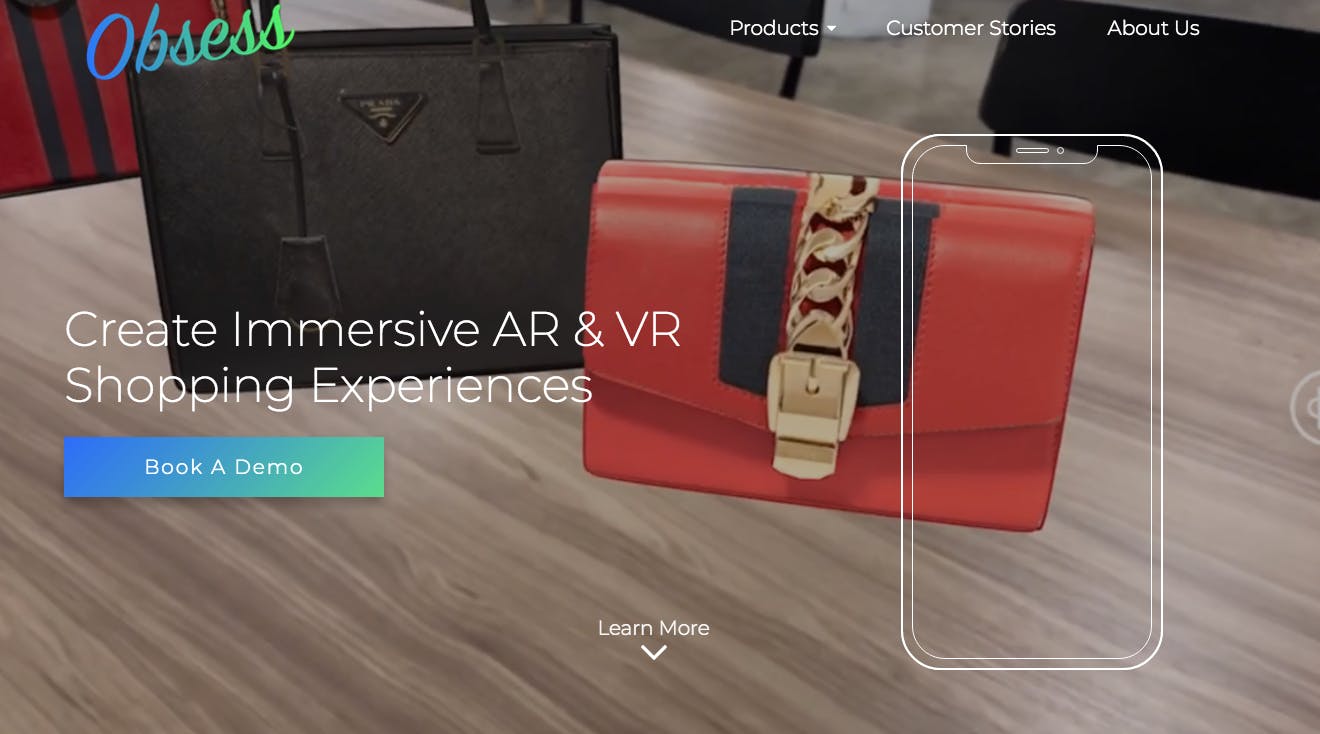 In future, luxury fashion will do well to think of these tiny screens from the moment they design a wicker basket bag, right down to the 'add to basket' button.