News sites are struggling with AMP.
Can your brand do better?
News sites are struggling with AMP. Can your brand do better?
by Leith's Head of Media Technology, Andrew Girdwood.

If you want more people to like your website then make it faster - particularly on mobile.
According to research shared by Google, 40% of shoppers will abandon a retail or travel site if it has not loaded within three seconds.
In fact, the search engine giant is such a strong advocate of this message, that it launched an open-source Accelerated Mobile Pages (AMP) project last year.
News organisations were Google's initial target for the project, but the company is now working hard to boost the attraction of AMP to all sorts of brands.
So do publishers of all kinds need to be jumping on the AMP bandwagon, or is it just beneficial for the big newspaper brands?
Clear benefits for news sites
Rapid loading is just one of the perks of Google's AMP. The search engine also rewards those sites which use it by qualifying them for prominent positions in search. AMP has been quickly adopted by many of the major news publishers for this very reason.
The fact that the setup helps reduce the impact of ad blockers (by hosting ads on the same server as the content) is also a big lure for an industry that increasingly relies on online advertising income.
Challenges of AMP
However AMP has not been without controversy. For a start, AMP versions of your web pages aren't even on your website but are hosted by Google's lightning fast content delivery network (CDN) instead, raising questions over content ownership.
Additionally the rules that help ensure AMP content loads as swiftly as it does, also place wide ranging restrictions on design and technology - for example it doesn't allow render-blocking javascript.
This week, a study from SEMRush looked at over 300 of the top publishers across eight countries and discovered far less than 50% of them had added AMP content to their sites and over 70% had technical errors in the content they had published: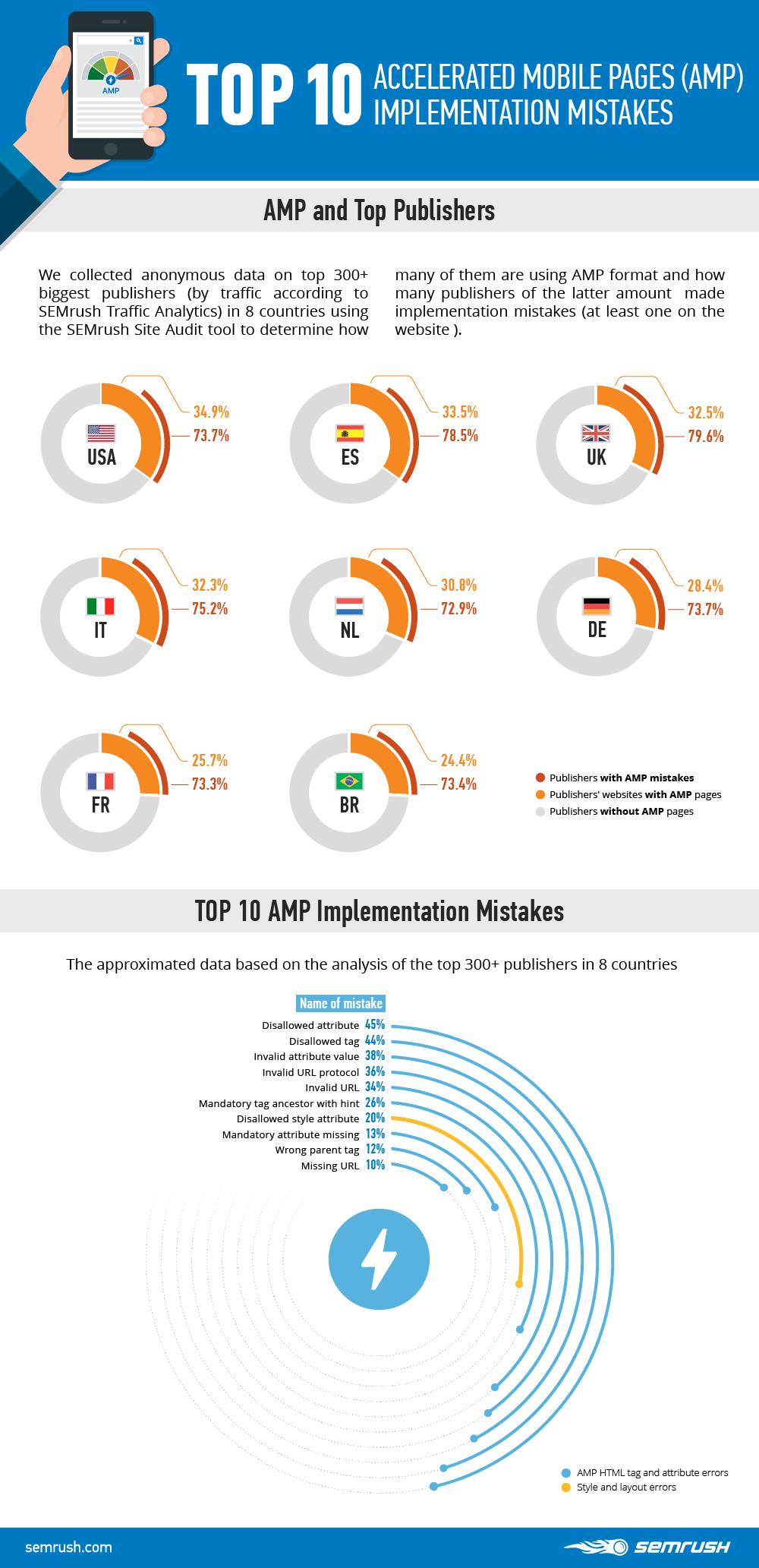 So if newspapers are struggling with implementing AMP, should you adopt it for your site?
Benefits of AMP for commercial brands
Being fast to load is also an advantage for ecommerce sites. At Google Marketing Next this year we were reminded that conversions can drop by up to 20% for every one second of page load delay:
In addition, AdWords, Google's PPC offering, will soon be expanding to cope with AMP landing pages. In their introductory blog post on the rollout, ecommerce is used as the example: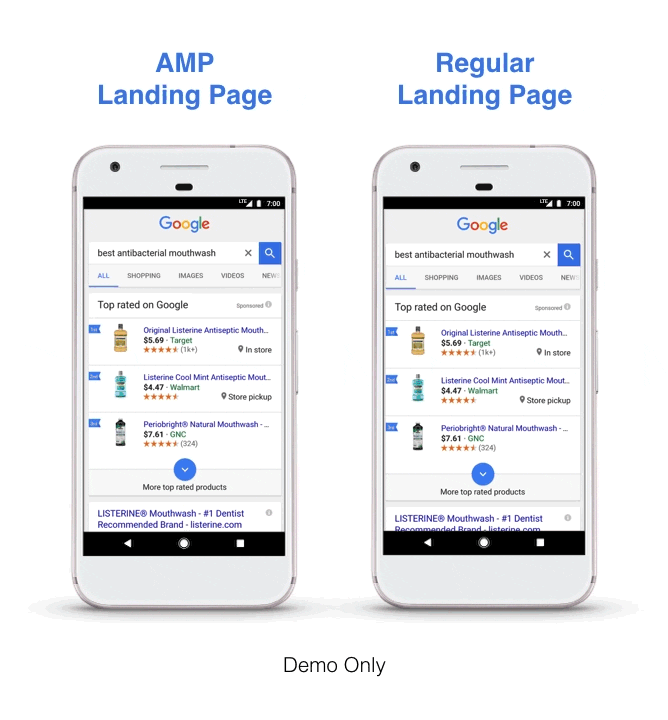 It's a powerful demo as it shows, very quickly, that when a customer knows what they want to buy, they will be more likely to buy from the fast and faff- free option.
Examples of AMP in action
There are already some good examples of how AMP is working for a wider range of brands.
Over at State of Digital the technical SEO expert Barry Adams shared some details from an ecommerce client that saw an improvement in conversions after introducing AMP. Barry admits problems with the case study though - noting that the AMP content was only used for the site's blog posts because AMP doesn't yet provide the full functionality required for ecommerce - and that the average order value dropped.
Another examination of the value of AMP pages comes from Seven League's Daniel Ayers who looks at the performance of the Newcastle United website. They had a new kit to launch and here AMP played a vital role helping to improve clickthroughs (CTR). Seven League conclude that mobile search should be a key source of traffic for football sites and that failure to adopt AMP will make that challenging.
In the Middle East and Asia Pacific the travel comparison site Wego.com used AMP for some specific customer searches, terms like 'cheap flights to Hong Kong', and reduced page loading times from 11 seconds to less than one. The results were dramatic, with conversion rates to partner sites soaring by 95% and search-to-conversion rates going up by nearly 50%.
AMP is worth our attention
Ultimately, AMP should be on the consideration list of any brand paying attention to digital transformation.
Right now, AMP is worth doing for the immediate wins it will bring publishers across all brands, but there are still some limitations. And it also needs to be considered in relation to all the other challenges digitally savvy brands are addressing today - and in most cases AMP will not be priority.
Therefore, the platform has secured its place on the to-do list but is unlikely to be at the top for most.
Meanwhile, Google will be working hard to push their mobile program up that list. And we'll be keeping a close eye on how the project develops so we can advise our clients on whether it's right for them.