Is your company guilty of brandwagoning?
Is your company guilty of 'brandwagoning'?
Leith copywriter Mairi Wilson explores when brands can endorse popular or social causes in an authentic way.
An interviewer once asked me 'who would be your dream dinner guest?' My answer is as certain today as it was then: Percy Pig. For those of you in the know, this needs no justification. But for those of you who need an introduction to this titan of the confectionery world, strap in.
In 2017, Percy Pig celebrated his 25th year as Marks and Spencer's premiere chewy sweet. Since his debut, he's travelled the world, had a family, invested in real estate and even got married to long-term love interest, Penny.
He's a business mogul. A millennial icon. And most recently, he's even dipped a trotter into the realm of Corporate Social Responsibility (CSR), by removing all gelatine from his recipe.
This meant that almost everyone, veggie or otherwise, would be able to embrace this delicious porker - pork-free. And most importantly, the move implied that M&S were prioritising lessening their environmental impact even further, right down to their smallest team-member.
But as is now the tradition, when M&S announced that Percy would now be a pig of the people, the people did revolt. In small, Piers Morgan-sized numbers, but enough to cause a ripple in the internet. So now M&S have taken to Instagram to recruit 100 fans to form the #PercyPigPanel, and decide on the ultimate, Game of Thrones level plot-twist:
Should Marks & Spencer reintroduce pig parts to one special pack of Percy Pigs?
Obviously, this is not the first time a brand has done a U-turn. Some infamous examples include Gap's universally hated rebrand in 2010. Or one that has somehow bypassed the pop culture subconscious: does anyone else remember when Pizza Hut tried to call themselves 'Pasta Hut'?

Nor are they the first company to attempt to capitalise on the growing veggie movement. The surprise hit of January 2019 was Greggs' hotly (or at least 'a wee bit o' heat-ly') anticipated vegan sausage roll. Seriously, if someone can get their hands on one for me, I'd greatly appreciate it...
But the difference is, while Greggs and M&S were hit with both a mound of love and internet angst, Greggs stuck by their decision. And with some of the most delightfully satirical community management I've ever seen. M&S, however, seem to be giving themselves an excuse to back down.
So what does this mean for M&S? Does this change in stance signal that they value their customers' opinions? Or does it mean that their attempt at CSR was merely them jumping on what they thought could be a lucrative bandwagon – only to jump ship when they realised their profits might start to sink?

The Dangers of 'Brandwagoning'
It's easy to see why brands can't resist the lure of endorsing popular, social causes like vegetarianism or environmentalism. Often, they hold massive marketing wins, can be incredibly profitable and - from a creative perspective - can inspire some life-changing ideas.
But the danger begins when a brand has no authentic claim to its chosen cause; 'brandwagoning', as I like to call it. If they don't actually care enough to follow through on a commitment - like pigless Percys - any previously warm messaging can come across as a mere marketing ploy. Worse still, some companies actively contradict their chosen cause; the most obvious examples are days like International Women's Day, when some of the worst perpetuators of casual sexism come out to celebrate #Feminism. Such 'brandwagonists' risk devaluing the significance of the cause in the beginning.
When a social cause starts trending, it can become 'trendy' to jump on board the 'brandwagon'. And as marketers, this is when we need to take a step back and make sure that we only get involved when it's a trend that actually looks good on our brand. And not if we'll look daft when someone asks us to defend our position.
Ultimately, authentic CSR has a sweet spot: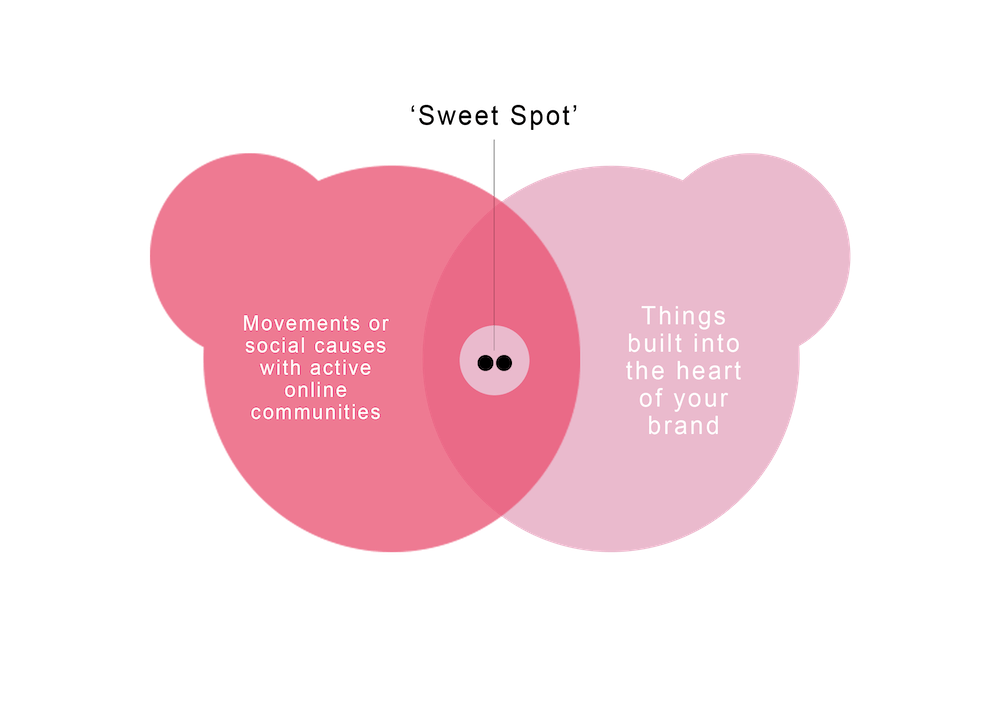 And if us digital marketers can spot it, it's a win all round.
That's not to say that your brand can't change its ways. Maybe you've always been a huge environmental polluter. But now you want to clean up your act. That's great - the polar bears thank you. But if you're a huge environmental polluter except from #EarthDay when you make a point of sharing your new Keep Cups, the polar bears aren't having it.

Overall, M&S actually have a good track record when it comes to sustainability. But their lack of pigheadedness in this case shows how easy it is to fall into the trap of inauthentic messaging. Perhaps the #PercyPigPanel (yes this has all been a shameless ploy to get me hired) will ultimately show that embracing vegetarianism is a good move for M&S. Perhaps not.
But for me, all it proves is that if your brand decides to take a stand, then make sure you can stand tall. If not, take a seat while you get to work on changing that.